Maurizio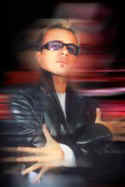 Yo! He's so cool. This is wierd but good. Very nice! The keyboard player in action.
Wierd! He had long hair too, like Gabry!! Sweet! Groovy! There's one similar to this on another page.
Like the hair! I love this picture, don't you? What's he doin' here?
Now this has to be the cutest I've found! Cool! "C'mon! Fight me if you can."
"Watch out, you're under my powers!"