C O N T A C T !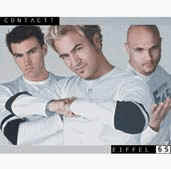 "Contact!" is Eiffel 65's second album. There are 17 songs on this CD. On the Italian version, the last track is "80's Stars", while on the European version, it's "World In The World".

For many curious fans, it seemed to take a long time for this album to be released. I don't know why, but CONTACT! isn't for sale in France, so I bought the Italian version off the Internet. I also found the Spanish version in Andorra (a tiny country between France & Spain), so I definitely got it[!] to complete my collection.

To find out the lyrics to the songs, click on the hyperlinks in the table below:

My review about this album.

One of the first differences about Contact!, is the large number of tracks. There aren't many albums with this big a number, unless it's a compilation CD. Eiffel 65's style hasn't changed that much, - only their sounds have varied. They still have those strong lyrics sung by Jeffrey's amazingly, powerful & robotic voice, Maurizio's cunning riffs, and last but not least, Gabry's magic touch, that gives life and bounce to the music. Keep this up guys!!! ;-)

Lucky(in my Life): 3rd single of CONTACT (summer 2001). This is a great song to listen to, making you feel happy. I reckon that this song reflects the lives of E65, - even though it can do the same to everyone. – And it's true, you don't need money to be happy! The video for this one is absolutely HILARIOUS!!! – Don't let those Tukonians beat you up guys!

New Life: When I first heard this song, I thought, "Wow!" The way the riffs are played in a sort of "backwards" way are really cool. It's quite clever how Jeffrey's voice is raised in an unnatural tone as well. Nice one, Jeff :-D

One Goal: 1st single of CONTACT (summer 2000). For all those footie [sorry, Maury, soccer!] fans out there, this is the one for you! The end of this track fades away as an imaginary football/soccer team cheer. I believe that the video for this song had a group of Tukonians playing this game.

King of Lullaby: There's a weird start to this song, a bit like a choir of monks singing. It's a very heavenly track, making you feel like you're in a dream, taking you up through the clouds, into the sky. So if you can't sleep at night, let these lyrics drift you into sweet slumber…

I DJ With the Fire: This song is quite similar to MY CONSOLE from E65's first album. It's got a nice tune and the vocoder effects are really out of this world! I wonder where the idea for this song came from? Hmm, makes me think of Gabry.

Crazy: Now this track definitely suits these guys! It's got simple lyrics, but they go well with the melody.

Faraway: Unlike other Eiffel 65 tracks, Jeffrey starts to sing before you hear the melody. This is yet another dreamy song to make you relax.

I Don't Wanna Lose: This is one of my favourites from this album. It's a slow song with a sad tune. Backing vocals are sung by Elena Flochen. She has such a wonderful voice! I like the way E65 have mingled male & female voices together.

Morning Time: There's an 80's influence in this track. Jeffrey sings slowly and calmly in this one. Check out the middle part when it sound like he's yelling into the microphone! The keyboard affects always make me smile when I hear them in this song.

Life Like Thunder: This one is very familiar to the previous one, with yet again interesting riffs. I like the metaphors, although I don't quite understand them.

Back in Time: 2nd single of CONTACT (New Year 2002).This was a nice 80's influenced tune to give us the introduction of the news of the release of a new album [this one] and a nice start to the New Year. The tune's one of those easy to remember and sing along to ones.

Johnny Grey: This is a song about a sad little guy called, well, … who do you think …[?] who wants the world to know that he exists. It's only in his singing that we realise that he wishes to become friends with us. Of course we will, Johnny! Check out the talking part in this song! – It's a very nice surprise from Jeff, something we're all dying to hear! J

Brightly Shines: Now this has definitely got that cool 80's drum beat in the back ground! – Excuse me for mentioning this style so often, but this is what suites Eiffel 65. – This song is very familiar to YOUR CLOWN from their first album. Even the vocoder sounds are the same. I like Jeffrey's "na, na na nas!" They're so funny.

Losing You: Elena Flochen songs most of this song. Jeff's voice has changed to sound sort of British-English! LOL She is basically singing about a long lost boyfriend, while he is responding to her cries. Awww!!!

People of Tomorrow: There's a House music effect to this one. – A fast beat, groovy tunes. The lyrics are really funny. They talk about playing Game Boys one day and becoming a PC genius the next! Will this really happen to us???

Journey: This song is about going on a long journey to somewhere that we don't yet know. It's just the right thing to say about our lives. It makes you think about it. Who knows what'll happen in the near future?

80's Stars: 4th single of CONTACT (late summer 2002). A very nice concoction of English and Italian mixed together with even two different voices: Signor Randone (J.J.) & Franco Battiato. The video of this song is very weird. – Now who put that football in for the characters to play with?!

World in the World: This track is great. It's got a very cool drum beat, with lovely dreamy effects as well, throughout the whole song. Jeff's got that British-English accent again. To be honest, I think it's a bit annoying that they hadn't included this onto the one album. Having two almost identical albums can become confusing. Sorry guys…

Well, that's "Contact!" for you. Hope you enjoy it! Eiffel 65 just get better 'n' better! – Long live the Blue trio!!!